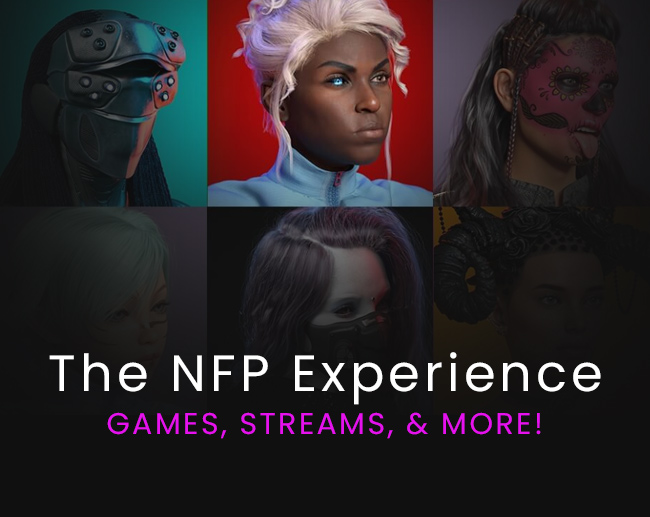 More Than Just an NFT
NFP (Non-Fungible People) is a collection that offers more than just your average NFT. Each algorithmically generated PFP (profile pic) includes a fully rigged, Studio-compatible 3D model that belongs to only you.
If you're wondering what it means to be non-fungible, take a look at our blog post about NFTs and the Future of Digital Content.
Here are just a few of the things we're bringing to the next generation of NFTs:

Next-Gen Utility
Your NFP is more than just a rendered image. Each stunning 3D figure is compatible with popular 3D software like Blender, Unreal, Unity with the power of Daz Bridges. Remix your NFP with new outfits, body types, hairstyles, accessories, and export them for use in games, animations, videos, and more.

Mo-Cap Streaming
Say goodbye to boring Zoom calls. Become your NFP in livestreams and video calls with motion capture technology.

Total Ownership
All rights to the finished character belong to you. Create, collect, or auction your NFP on an NFT marketplace. It's your call!
Get Your Digital Wallet Ready
The NFP presale and public sale are coming soon, so make sure your digital wallet is ready for launch! If you need help setting up your wallet, check out this guide on
How to Set Up Your MetaMask Wallet
Join the NFP Community
The NFP Discord community is thousands strong and full of fellow digital artists and 3D enthusiasts. Join us for sneak peeks at the upcoming collection, Daz store discounts, and incredible giveaways.
Add daz3d@email.daz3d.com to your safe sender list to ensure
our emails make it to your inbox.
This email was sent to you by Daz Productions, Inc.
Daz Productions, Inc. | 224 South 200 West | Salt Lake City, UT | 84101